As a representor of distribution, education and support Archicad software from GRAPHISOFT in Vietnam, in this September and October; VILANDCO – Graphisoft Vietnam coordinate with The national steering committee of BIM organize BIM manager mini course. On three days of training, the content will focus on Support and optimization of BIM manager efficiency.
The Program orient to engineers, architects, senior managers who interest in developing BIM manager on construction field.
A chance to directly discuss and learn with the top experts working at GRAPHISOFT.
Receiving preferential policies for buying products and attending VILANDCO training course.
Trainees are able to get Certification after finish the course.
Note: In order to get Certification after the course, trainee should:
Fully attendance on every subjects from mini course.
Getting 7/10 marks on the synthesized tests in the end of the course
Topic
1.BIM Office Management
2.Archicad Template Creation
3.BIM Project Coordination
Time
9am-11am

09/09/2021

9am-11am

23/09/2021

9am-11am

07/10/2021

Organizational form
Online
Online
Online
Language
Bilingual

( English – Vietnamese)

Bilingual

( English – Vietnamese)

Bilingual

( English – Vietnamese)
Using links below to take part in the Program:
Link 1:   https://forms.gle/qS7p1mLoXBXujeen6
Link 2:  http://bim.gov.vn/su-kien/su-kien/bim-training-chuong-trinh-dao-tao-bim-manager-mini-course
This link will be closed on: 06/09/2021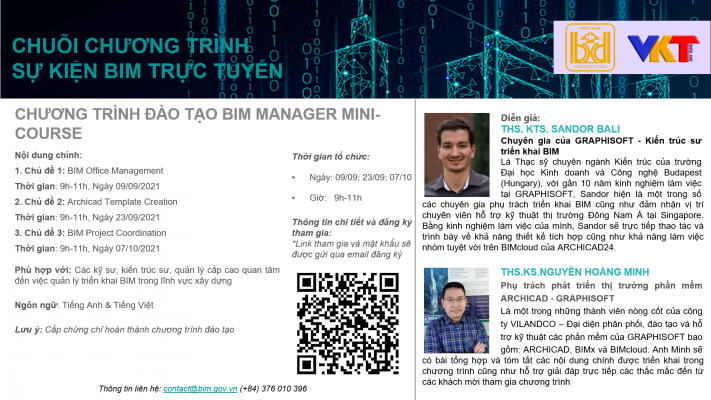 Agenda
Topic
Content
1.BIM Office Management
General Introduction, BIM Project activities, BIM Project Management

BIM standards from all over the world (ISO 19650)

Human resource and work division on BIM Project

How to develop and finish the Project

Legal elements involved

Coordination between the project subjects and team working.

Applying software on BIM Project Development.

2. Template Creation
The main purpose and preparation steps

Creation of the Project

Creation of fundamental information

Information and Data management

Project's structure management

Establish convention

Regulation of basic development protocol and engagement

Template management

3.BIM Project Coordination
Steps to launch the Project

EIR/BEP

Setting up the Project plan

Deriverables

Data management

Optimized steps for the Project

Establishment of Model – Challenge & Reality

BIM Manual

Coordination with other software.

Project auditing

Coordination sections.